1.1. Motivation and justification
The structural change observed on a global scale in the ownership and management of the electricity industry has been particularly strong since the second half of the 1990s. Chile was a pioneer in introducing free competition in the generation segment and in the separation of generation functions, transmission and distribution of electric energy. In 1982 was enacted the DFL N° 1/1982, it introduced competition and privatization of the Chilean electricity sector, was enacted. An operating model is established at a minimum global cost, and it is encouraged that generation companies can freely subscribe to supply contracts with free customers and distribution companies, which supply regulated customers.
For more than 20 years, the Chilean electricity market has been improved through the creation of regulations and standards, a situation that is beginning to change when Chile faces a major energy crisis, which over time combines several conditions, including gas supply restrictions Argentine natural, an important drought that limits the contributions of hydroelectric plants, slowing of the investments in the sector, etc. Thus, the changes to the General Law of Electrical Services (LGSE), made official in March 2004, through Law 19.940, modified a set of aspects of said market that affects all means of generation, also introducing elements especially applicable to non-conventional renewable energy (NCRE). It is worth mentioning the possibility of small-scale generation to participate in the electricity market, and partial or total exemption of charges from transmission systems for small-scale NCREs.
Likewise, Law 20.257 came into effect on April 1, 2008, which establishes that electricity companies that sell energy to final customers must prove that a percentage of the energy sold comes from non-conventional renewable energy sources. This establishes a progressive increase of the NCRE participation until reaching 10% in 2024. This obligation was increased in 2012, through Law 20.698, establishing a new NCRE obligation of 20% for 2025. The electric company which does not comply with this obligation, must pay a tax for each megawatt-hour of deficit in respect of its obligation, which in practice has rapidly strengthened interest in the search and development of cost-effective NCRE projects.
Beyond the same regulation, one of the unpublished processes that has driven the sector development was carried out in 2014 and consisted of a participatory planning process for the long-term energy policy denominated Energy 2050, a process that extended for more than 18 months with significant national impact. As part of this process, a number of instances of discussion were held and an Advisory Committee was formed composed of different actors from both the public and private sectors and scholars. As a result, 34 strategic guidelines were established with their respective action plan, both for the year 2030 and for 2050, generating an unprecedented policy and road map in the country. In the field of renewable energies, one of the most radical goals was established, by 2035, reaching at least 60% of the national electricity generation comes from renewable sources and by 2050 this value increases to 70%.  A summary of these and other goals established in the participatory planning process is presented in Figure 1.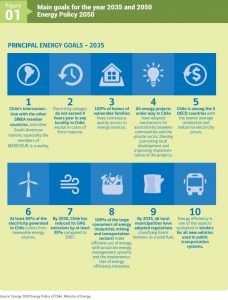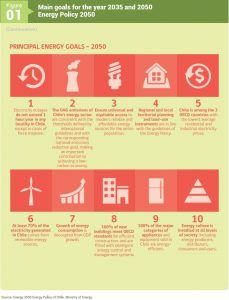 Once again in the area of regulation, Law 20.571 became effective in 2014, which regulated the payment of electric tariffs of generators in regulated customer facilities, thereby enabling distributed generation. This Law is known as Netbilling or Distributed Generation or Residential Generation Law and has allowed the installation of self-sufficiency projects with the possibility of injecting their surplus into the network, receiving payment for them. With Law 21.118 of 2018, the power limit of the projects increased from 100 to 300 kW.
In 2015 and 2016 new laws of great relevance for the national electric sector have been approved and became effective. Law 20.805, which improves the system of tendering for electricity supply for customers subject to price regulations, has made it possible to considerably improve competition in these tenders. Also, the barriers that renewable energy projects had to participate have reduced, allowing them to concentrate their offers in the blocks where they effectively have their resources available and thereby pushing the prices offered downwards.
On the other hand, Law 20.936, which establishes a new electric transmission system and creates an independent coordinator of the national electric system, enacted in July 2016, introduces structural changes that modify the expansion, planning, payment of the transmission, providing a robust transmission network, with great capacity of integrating NCRE projects throughout the country. It also establishes the empowered figure and the guidelines for the operation of the Coordinator as a technical and independent body responsible for coordinating the operation of all the National Electric System installations (SEN), replacing the former Economic Load Dispatch Centers (CDECs), adding new functions, attributions and obligations.
The new laws, regulations and standards associated with these changes have been translated into price signals and fundamental changes in business models for NCRE. These changes have been quickly captured by decision-makers in the electricity market and especially by potential investors in NCRE projects, both those currently present in the national electricity market and potential new national and international investors. This has been manifested in a dynamic process of development of NCRE projects in national electric systems, which in recent years has resulted in an explosive development of NCRE projects, boosting Chile as a South American leader in the development of projects in this type of technologies, especially in large-scale photovoltaic solar energy, followed closely by wind power also in large-scale.